Speciality Shops of Mt Dandenong, Olinda, Sassafras and the Yarra Valley
There are so many great shops on the Mountain, ranging from cellars to deli produce, sweet shops, smellies and home-wares.
If you are a keen Antiques Roadshow viewer then you will also enjoy pottering around the various Antique shops. They range from fun bric-a-brac to genuine antiques. With so many great shops you'll want to explore and find your own favourites, here are just a few of ours.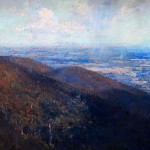 The paintings included on the Heidelberg School Artist's Trail that reside in the Mt Dandenong area were all inspired by the surroundings the artists painted in. Many of these scenes still exist today and the display boards allow you to view the paintings inspired by the scene. Download the Villages Map for locations of these views.
ARTHUR STREETON
Mountain Map C2 Observatory Rd 'Kalorama Park looking towards Silvan' 1937
Mountain Map E3 'The Cloud (Storm over Macedon)' 1936
Mountain Map H7 'Golden Afternoon, Olinda' 1924
Mountain Map I8 'View from Farmer's, Olinda' 1928
EEGENE VON GUERARD
Mountain Map A11 'Ferntree Gully in the Dandenong Ranges' 1857
TOM ROBERTS
Mountain Map G12 'Sherbrooke Forest' – 1924
Mountain Map G11 'Country Road Makers' – 1923
Mountain Map H11 'Washing Day, Kallista' – c1923-25
ART GALLERIES
Fiveways Gallery Weds – Sun 11am – 5pm
Mountain Map C2
Sherbrooke Art Gallery Weds – Sun 10am – 4pm
Mountain Map F13
Burrinja Gallery 10am – 5pm daily
Mountain Map C14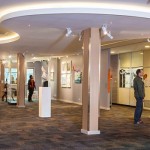 Cnr Glenfern Rd and Matson Drive, Upwey
VIC
Australia
Situated in the picturesque Dandenong Ranges, Burrinja Cultural Centre offers vibrant, creative spaces ideal for any event from music and theatrical performances and rehearsals, to corporate and business functions, to social and special events.
Burrinja's mix of regional, contemporary, Indigenous, performing and studio arts makes it a unique cultural hub. The design of the new theatre and foyer spaces by Gregory Burgess Architects captures this difference in its ochre colours, chevron lines and subtle curves.
Comprising a fully equipped professional theatre, performance studio, licensed café and bar, exhibition foyer, workshop space and meeting room, Burrinja is a stunning and vibrant venue for your event.
There are many aspects of Burrinja your guests can enjoy, from the Art of Place Indigenous Garden, to contemporary art in the galleries, to a glass of wine at the Burrinja Café. You can even include a tour of our amazing Indigenous art collection in your event.
Burrinja is user friendly for people with a disability and all areas are wheelchair accessible, including elevator access to the theatre and first floor from the car park.
Space is available for wheelchairs for all performances and functions in the theatre, and a hearing loop is installed in the theatre.
There is on-site parking for guests and bus spaces.
We can offer you full box office facilities, including online ticketing, and marketing support if appropriate.
Our experienced staff are committed to quality customer service and will work with you to ensure that your event at Burrinja is unique, successful, enjoyable and memorable.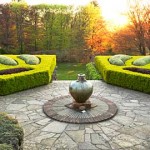 89 Olinda-Monbulk Rd
Olinda
3788
VIC
Australia
A must see garden made at the top of The Dandenongs where a maze of stone walls and jewel like garden rooms are set within woodlands of magnificent and historic, cool climate trees.
Some 20 garden compartments are threaded through glorious 80 year old European beech, magnolias, maples and a collection of fabulous Himalayan tree rhododendrons, all beautifully grown and a testament to the lush, moist soils of the Dandenongs. The garden is highlighted by glorious herbaceous borders which focus on two of the finest Japanese weeping maples to be seen anywhere in the world.Open 7 days
10am – 5pm
National Rhododendron Gardens
13 19 63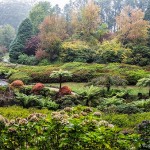 The Georgian Rd
Olinda
3788
VIC
Australia
Enjoy a self-guided tour, strolling through 40 hectares of scenic botanic gardens or a picnic by the lake and take in stunning views of the Australian Alps. Photograph the native birdlife and brilliant floral scenery.
During the Spring Floral Festival held annually from August to November visitors can enjoy a series of undercover floral displays, including the largest undercover display of daffodils in the Southern Hemisphere.
The garden has a gatehouse, gazebos, grassed picnic areas and toilet facilities for people with limited mobility. There is a gardens giftshop stocking a wide range of gifts including limited edition prints, gardening books and garden ornaments.
Café Vireya is currently closed but is available for large group bookings. For café group bookings only phone (03) 9751 0443. For all other enquiries please contact Parks Victoria on 13 1963.
A plant nursery operates selling a wide variety of plants including rhododendrons. There are picnic tables on the Cherry Tree Lawn.Open 7 days
10am – 5pm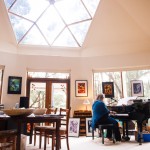 The Dandenong Ranges Open Studios Weekend features an eclectic range of artists and media against the backdrop of one of Melbourne's most beautiful and popular tourism destinations.
The Open Studios weekend, featuring around 30 local hills studio locations, is one of the most anticipated events for the region's cultural calendar, attracting art minded visitors and tourists since 2004. Featuring Hills artists working across a range of mediums – as varied as painters, potters, wood carvers, digital artists and didgeridoo makers – the Dandenong Ranges Open Studios program provides a unique insight into our artists' work environments as well as their art.
Open Studio
Coinciding with the Open Studios weekend is the annual OPEN STUDIOS EXHIBITION at Burrinja Gallery. This exhibition is a unique opportunity to see and experience work from each of the artists in one gallery, making Burrinja a great place to start the Open Studios Weekend tour.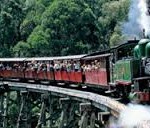 1 Old Monbulk Road
3160
VIC
Australia
This century-old steam train continues to run on its original mountain track from Belgrave to Gembrook in the magnificent Dandenong Ranges 40kms east of Melbourne.
Puffing Billy was built to serve at the turn of the century and is a genuine relic of our more leisurely days. The Railway is the major survivor of four experimental lines used to develop rural areas in the early 1900s.
Puffing Billy Railway is now a major tourist attraction and operates every day except Christmas Day, thanks to the tireless efforts of more than 900 dedicated volunteers.
Runs Daily
Rayner's Stonefruit Orchard
(03) 5964 7654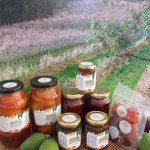 60 Schoolhouse Rd
VIC
Australia
Take a drive from your base on the mountain and spend a fantastic day with farmer Len or his son Cameron. Experience the joy of picking and eating some of the very best stonefruit the area has to
Your farm experience will include all aspects of fruit growing, picking, packing, handling and growing methods.
Part of this farm experience will of course be eating as much of our fabulous fruit as you can. You can also take some home with you. There are also yabbies in the dam (fresh water crayfish) if you wish you may catch a few.
Remember we grow around 250 varieties of stonefruit including peaches, nectarines, plums and apricots plus a large range of interspecific varieties. Morning, afternoon teas and lunch will be provided by chef Dudley in our café.
ORCHARD WALKS & TRACTOR TOURS
The freshest fruit is the fruit taken straight off the tree. Peaches, Nectarines, Apricots and other varieties to select from. It's the 'Garden of Eden' in the Yarra Valley… and you can take an Orchard Walk through the groves of stone fruit trees, sampling the freshest fruit, and enjoying the company of one of our staff explaining about the fruit of our trees.
Orchard Walks and Tractor Tours are available between 9am to 4pm seven days a week from December to March. Come alone or come with a busload of friends. Your tour of the property will include…
• Strolling or riding through groves of fruit trees with our guide, sampling around 10-12 or more varieties ripe and ready to eat
• Guide to explain the wide range of varieties, characteristics of trees and their fruit
• A close look at the sorting and packing sheds
Bookings for walking or tractor Orchard Tours are essential, so call us.
FARMERS MARKETS
Rayner's Stone Fruit Orchards are committed to providing the best quality stone fruit in Melbourne. With over 250 varieties of fruit, all grown in our own orchards in the pristine Yarra Valley, our fruit is hand picked daily for delivery to our retailers, and farmers produce markets all around Melbourne!
SEE OUR WEBSITE FOR MORE DETAILS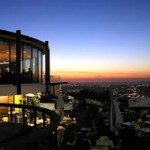 26 Observatory Road
Mount Dandenong
3767
VIC
Australia
Get some perspective & escape the noise and pressures of the concrete jungle. Less than one hour from the Melbourne CBD you can be SkyHigh on the uppermost reach of the Dandenong Ranges, amid cool fern glades and lush towering native forest, looking at the big picture, from the Mornington Peninsula across the majestic sweep of Port Phillip Bay, surrounded by Melbourne's growing urban fringes, to the You Yangs on the southern horizon. After sunset the southern sky, brilliant in the clear mountain night, is imitated by a spectacular carpet of glittering city lights.
First established as a survey point in 1861 this historic area, which has recently undergone a lavish and sympathetic redevelopment, affords a unique overview of Greater Melbourne. Enjoy the unparalleled vista from the SkyHigh Bistro/Restaurant or fire up a public barbecue, spread a rug and picnic on the elevated viewing terrace.
SkyHigh Bistro/Restaurant offers contemporary dining for all the family to enjoy. Our Head Chef has designed a menu with a modern Australian flavour, catering to a broad range of tastes, including vegetarian and gluten free offerings.
In Winter, dinner in front of our large open fire place is a popular choice, but when the sun appears alfresco dining in our new pavillion or a window seat inside our stylish Bistro/Restaurant is the place to be.
Breakfast and lunch is always a casual affair, at night the SkyHigh Bistro transforms into a sophisticated and intimate Restaurant and is a great venue for a celebration.
The SkyHigh restaurant is located on the ground floor of the building, the top function room is for private hire only unless you are booking our Sunday Roast lunch or Afternoon Tea.
SkyHigh Mount Dandenong offers a complimentary limousine pick up from Bed and Breakfasts in the local area, within a 7 km radius. This service is available 5 nights a week Monday to Friday (Not available Saturday or Sunday nights or Public Holidays). * Open 7 days a week including public holidays
* Gates open Monday to Friday 9am-10pm
* Gates open Weekends 8am-10pm
* Gate fee of $5 per car apply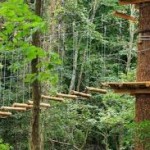 Glen Harrow Gardens, Old Monbulk Rd
Belgrave
3160
VIC
Australia
Trees Adventure is a new, exhilarating eco-adventure in the Dandenongs. It comprises five tree-top obstacle and flying fox courses that weave through the sublime canopy of Glen Harrow heritage gardens.
Soar through the forest on an array of flying foxes and take on a series of thrilling challenges. Adventurers move between platforms between 2 and 12 metres in height, across a series of imaginative obstacles. There are easy courses for those scared of heights to 'black runs' for thrill seekers. Each participant will be fully equipped and trained. The obstacle course provides an opportunity to be daring but also requires participants to take responsibility in a controlled environment, which builds capability and ultimately self-confidence.
IMPORTANT – Space in the trees is limited so booking a spot is really important. Make sure you book online or phone us before you make the drive!
IMPORTANT – ALL Participants (including adults) need a waiver signed. Participants under-18 years need a waiver signed by their own parent. You can have forms signed by your parents in advance if you are coming with other relations or friends!
PLEASE GO TO OUR WEBSITE TO DOWNLOAD A WAIVERMon to Fri 11am – 5pm
Sat and Sun 9am – 5pm
Sessions are 2 hours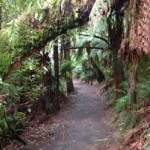 Download the Villages Map for locations of all these popular walks.
OLINDA FALLS 300m Medium Difficulty
Starts and Finishes at Olinda Falls Picnic Ground Mountain Map G4
After a good rain the falls should be flowing so it is worth the 45min round trip. This is reasonably steep and if you want to make it a longer walk you can take the track from Mechanics Reserve on the Mt Dandenong Tourist Rd.
KYEEMA TRACK AND MEMORIAL 500m Low Difficulty
Starts at Kyeema Memorial Mountain Map D4
Join the Kyeema Track after viewing the Memorial which the marks the spot where the Kyeema aircraft crashed on 25th October 1938. This scenic track takes you around to the base of SkyHigh where you can drop in for a refreshing drink before returning.
HARDY GULLY NATURE WALK 700m Low Difficulty
Starts and Finishes at Grants Picnic Ground Mountain Map G11
This easy Interpretive Walk takes you back in time to ancient origins with signs that will introduce you to the cool temperate rainforest.
STABLES TRACK LOOP 1.9kms Medium Difficulty
Starts and Finishes at Doongalla Homestead Picnic Ground Mountain Map D5
After viewing the remains of the Doongalla Homestead and Stables and maybe even a picnic lunch you can take this moderate walk though some of the Doongalla Forest.
SHERBROOKE FALLS 2.4kms Low Difficulty
Start and Finish at Sherbrooke Picnic Ground Mountain Map F11
This is an easy 1 hour walk which will take you to the falls through a lush forest setting. There are also a number of other walks that start and finish here.
1000 STEPS / KOKODA MEMORIAL TRAIL 3kms High Difficulty
Starts and Finishes at Ferntree Gully Picnic Ground Mountain Map A12
A favourite with football teams for training and those interested in the history of the Kokoda Track. This moderate to steep 3km loop has commemorative plaques along the way depicting the lives of Australia soldiers who fought and died in Papua New Guinea during WWII.
VALLEY TO EAGLE NEST LOOP 3kms Medium Difficulty
Starts and Finishes at Valley Picnic Ground Mountain Map I6
This moderate walk will take you about 1 hour to complete through the forest. There are also a number of other walks that start and finish here.
EASTERN SHERBROOKE FOREST WALK 7.1kms High Difficulty
Starts and Finishes at Grants Picnic Ground Mountain Map G11
This longer walk is moderate to difficult so allow yourself plenty of time to complete the loop and take some water on a warm day.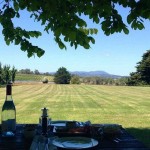 Wild about Tours is a very personal experience, taking you to the finest destinations in The Dandenong Ranges and Yarra Valley.
Jilly is your personal tour guide, taking groups of no more that 6 at any one time. She lives in The Dandenong Ranges and is passionate about the region. Although only an hour from Melbourne, when you enter the Dandenongs you are in another world, with its unique cool rain forest and boutique villages, fabulous restaurant's and beautiful accommodation.
Tours are either full days or half days and are flexible. We can mix and match tour content to ensure you have the very best experience possible.
All tours include pick up and drop off within a 10 km radius of Olinda. Most tours include a glass of wine with lunch and wine tastings, so you can relax and be driven for the day.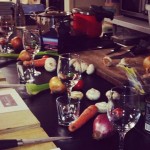 Cnr Ridge Rd & Mt Dandenong Tourist Rd
Olinda
VIC
Australia
FUN WITH FOOD DEMONSTRATIONS $45 – $65Ben guides you through several dishes with the subject changing from class to class. There is plenty of fun and hands on cooking. Try something new like fresh pasta making with the advantage of a professional on hand for those special tricks that only chefs seem to know. This is a great social night to enjoy with your partner or friends.
TRICKS OF THE TRADE WORKSHOP $150
Ben takes you through step by step as you follow along in an enjoyable and informative morning of hands on cooking. You'll learn how to prepare, cook and present a three course meal to impress, whilst learning the tricks of the trade. You can then enjoy your lunch in The Wild Oak Restaurant.
SPECIALITY MASTER CLASSES $250
Ben along with an invited guest chef, guides you step by step through the more professional aspects of cookery. Taking everyday cooking a step further, you will master specialist cooking techniques and cuisine styles using professional cooking equipment. Classes are a maximum of four people so that you can get the maximum benefit as you delve deeper into the more complex world of culinary art.
PRIVATE CHEF PARTIES Price on Application
Get some friends together and have a drink and a laugh whilst learning a few new tricks in the kitchen. Suitable for 4 to 8 people, ideal for a girls night out, a warm up for a hens day or just for a few friends who would like to have their own exclusive hands on class. Organiser can choose a course structures to suit the group and will receive a thank you goodie bag valued at $50.00.
PERSONAL CHEF INSTRUCTION Price on Application
Book your own hands on, one on one class with Ben Higgs. Ben will take you through intense training in the cuisine you are interested in. With only yourself and a chef, you can cover a great deal more and receive much more attention to detail on your cooking abilities. This is a great class for those who love to cook and want to take their cooking to a professional level.
See our website for class dates
William Ricketts Sanctuary
13 19 63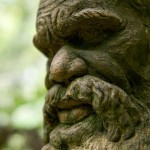 1402 Mt Dandenong Tourist Rd
Mt Dandenong
3767
VIC
Australia
In the 1930s, William Ricketts bought the four-acre bush block on Mount Dandenong and called it Potter's Sanctuary. Word spread about the extraordinary sculptures that began to adorn the property. In time, the Victorian Government heard about his work and, in the early 1960s, the land and adjoining blocks were bought for the people. William Ricketts lived on at the Sanctuary into his nineties and continued to create his sculptures until his death in 1993.
It is a place of beauty and tranquillity, due both to the natural setting and the 92 mystical kiln-fired clay sculptures of people and animals that are discreetly set among rocks, fern trees and Mountain Ash. These sculptures are an expression of Rickett's philosophy – that all people need to act as custodians of the natural environment in the same way as Aborigines, the inspiration for much of his work. It is a place for quiet reflection and for contemplation of the essence of the vision of William Ricketts. Many travel across the world to visit this place time and time again and stroll through the gardens or enjoy the audio-visual display featuring William Ricketts where visitors can see for themselves the vision and passion that live in his art.Open 7 days
10am to 4.30pm
Closed Christmas Day